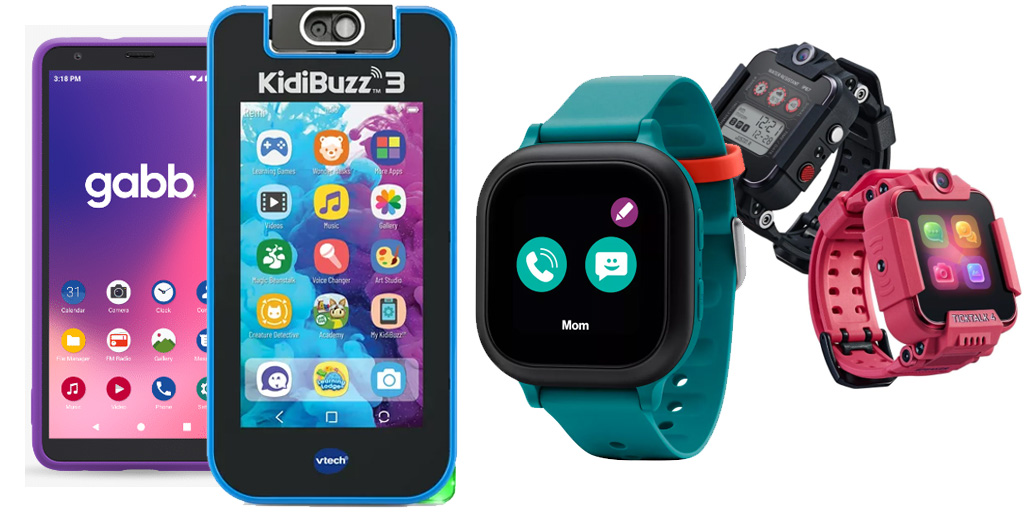 You've decided it's time to buy your kid their own smartphone or smart watch. Lucky kiddo! But if you're feeling overwhelmed by all the options, we're here to help.
Age, budget, and temperament are all factors to consider when determining whether to start with a phone or watch. If you've decided on the type of device, we have recommendations here for the best kid-friendly smartphones and smart watches on the market today.
Less Is More
When evaluating a specific brand and model for your child's first device, you don't need a bunch of bells and whistles. You just need a durable device with the features that allow your kid to communicate. We consider a device kid-friendly if it allows kids to stay safely connected. This means:
Parents can manage any available features, such as a camera, web access, and games
Parents can program and manage contacts
Controls are simple and intuitive
Buttons are on the larger size for your small human's hands and fingers
It may be helpful to get your child a phone that is compatible with yours. For example, if you and your child both have iPhones, you can use the Find My app to have your child share their location when they're out with friends.
Of course, price is another important factor, especially since kids may outgrow their device more quickly than would an adult.
Watch our video or read the article below!
Kid-Friendly Smartphones
Here are our top picks for kid-friendly smartphones:
Gabb Phone
The Gabb Phone makes our list of great, safe phones for young kids because it has no internet, social media, or app store access. The phone does allow for GPS tracking, talk, and text messaging.
The device has a camera, Bluetooth capabilities for music streaming, and a handful of pre-installed apps, such as a calculator and calendar. The Gabb phone's battery can last a few days before recharging.
The Gabb Phone is available at Gabb.com for $149.99.
VTech KidiBuzz
The durable Vtech KidiBuzz can utilize a chat app or Wi-Fi for sharing text messages, videos, and photos (but no cellular reception, so no location tracking). The device comes with 40 preloaded, age-appropriate, and educational games and apps. 
The phone's parental controls allow parents to control content, screen time usage, and contacts. Its rechargeable battery will last about 5 hours.
The KidiBuzz is available from Amazon.com for $119.99.
Samsung Galaxy A50
For older children, the Samsung Galaxy A50 by Android is a good, mid-range smartphone. It is durable, has parental controls and a large display, and includes additional features and storage.
Parents can set up the Kids Mode app on the Samsung Galaxy device, which includes age-appropriate content and access to safe, educational games. Parents can monitor and control content and screen time.
The Samsung Galaxy A50 is available at Samsung.com, starting at $449.00.
iPhone SE
Don't be surprised if your older kid or teen specifically requests an Apple iPhone. According to a survey in 2022, a staggering 87% of teens own an iPhone. Why are they so fiercely loyal to the premium brand? The likely answer includes two reasons:
Owning Apple products is a status symbol
iPhones use iMessage, which works without a data plan and is compatible only with other Apple products. Kids who communicate with friends may feel iMessage is key.
Our recommendation for iOS is the Apple iPhone SE. Like the Samsung Galaxy series, the iPhone SE comes with more features, memory, and a faster processor than the Gabb Phone or Vtech KidiBuzz. It's also a little smaller, physically. Parents can limit calls to approved-contacts and use the Find My iPhone feature for location tracking.
The iPhone SE is available on Apple.com, starting at $429.00.
Kid-Friendly Smart Watches
Companies are advancing their technology and available features faster than most can keep track, notably in the category of wearable technology. In comparison to basic fitness trackers of the early 2000s, many smart watches today include voice calls, GPS tracking, music streaming, and more.
Here are our recommendations for the best kid-friendly smart watches:
Verizon Gizmo Watch 2
We recommend the Verizon Gizmo Watch 2 as a safe, entry-level kids smart watch. It is durable, waterproof, and includes kid-friendly features like GPS tracking and parent-approved contacts. Activity monitoring is also available. Kids will love the fun color options for the bands.
The Verizon Gizmo Watch 2 is available on Verizon.com for $99.99.
TickTalk 4
This durable, water-resistant watch can be programmed with up to 50 contacts. The TickTalk 4 can send text messages and make video calls, voice calls, and Wi-Fi calls. It includes two cameras and music streaming. Parents can control which contacts are included and utilize the watch's GPS functionality to track a kid's whereabouts.
The TickTalk 4 is available on Amazon.com for $199.99.
VTech KidiZoom Smartwatch DX3
The affordable VTech KidiZoom smartwatch includes a number of fun clock faces to choose from, a camera, downloadable games, and pre-set messages (but no location tracking). Parents have control over contacts and game usage, and they can program the watch to school-mode to limit usage. This smart watch can also be paired with other KidiZooms for kids to play games together.
The VTech KidiZoom is available on Amazon.com for $59.99.
Apple Watch for Kids
The Apple Watch is coveted by older kids and teens for its brand status and compatibility with other Apple products. The Apple Watch for Kids is smaller and less expensive than the Apple Watch. It includes a GPS tracker and allows for phone calls and messages to parent-approved contacts. Parents can also set up reminders and track their kid's activity. It can be difficult to find the kid's version of the watch for sale, so you may need to buy an adult version with one of the smaller band sizes.
Apple's "Family Setup" includes a Schooltime feature, which parents can control. It also allows parents to set up the Apple Watch with their iPhone rather than requiring kids to have their own iPhone.
The Apple Watch is available on Walmart.com for $149.00.
A Final Note
Remember, if your kid is receiving a device for the first time, this is your best opportunity to establish guardrails for their responsible interaction with technology.
A device can help kids develop independence, but it also comes with risks. Leverage your kid's enthusiasm for a smart watch or smartphone by creating an digital device contract. Set expectations and set limits. Creating healthy habits now can help your kids form healthy relationships with their devices.